Grand Lodge Nominations
January 16, 2021
Local Lodge
Regular Monthly Meeting
Official Homepage of Local Lodge 754
Local Lodge 754
2020 Retirees
Members of Local Lodge 754 wish you all a Happy and Healthy Retirement
Congratulations!

Barrington "Barry" Young
4/23/1997 - 11/30/2020
23 Years
Frank Rodriguez
6/14/95 - 6/30/2020
25 years
William Berryman
4/17/1999 - 7/31/2020
21 years
Robert Harms
7/21/1999 - 7/31/2020
21 years
Metropolitan Transportation Authority Defined Benefit Pension Plan (MTA DB) provisions requiring a member to file their retirement application at least 30 days in advance of retirement, will be waived for the period April 16, 2020 through May 16, 2020.
Check Back periodically after 5/16/2020 to see if the 30-Day Filing Requirement is Extended.
The EFMLEA expands the Family and Medical Leave Act (FMLA) to provide employees who have been employed for at least 30 days prior to their leave request up to 12 weeks of partially paid job-protected leave to care for children in the event of a school closure or when a child care provider is unavailable due to COVID-19.... Click here for more ← ← ←
NEW FEDERAL AND STATE COVID-19 RELATED LEAVE LAW
FAQ's about the Families First Coronavirus Response Act, Emergency Paid Sick Leave Act, the Emergency Family and Medical Leave Expansion Act, and the New York State COVID-19 Paid Sick Leave Law.
For info on Membership Meetings , check with your Shop Steward and look for postings in designated areas in Shops.
Railroad Retirement Board Closes Field Offices to Public
Welcome to the official website of Local Lodge 754
Machinists proudly serving the Long Island Rail Road
---
I.A.M. & A.W. Local Lodge 754
P.O. Box 23
Ronkonkoma, NY 11779-0023
---




We are Local Lodge 754 of the "International Association of Machinists and Aerospace Workers" serving the Long Island Rail Road From West Side Yard Manhattan to Montauk Point Long Island NY . We are currently 300 members strong. As we move into the 21st century we look to expand our membership well beyond that number. For information on how to join the I.A.M. click here: Join The I.A.M.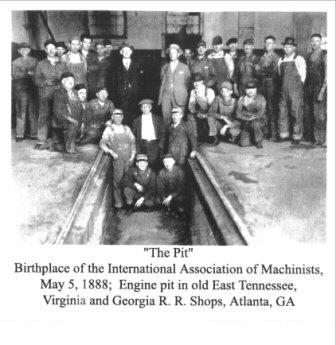 2019 R.J. McCarthy Fellowship Awards and Dinner Night
I.A.M. LEGISLATIVE CONFERENCE

MAY 6-8 2019

WASHINGTON D.C.



I.A.M. members joined in Washington DC to lobby for policies that benefit working people/families.Local Lodge 754 sent their Vice President Richie Torres and Trustee Jeff Liuzzi to the Conference to do just that. While on the Hill, Richie and Jeff met with Rep. Peter King, Rep. Lee Zeldin and also met with Senators Kirsten Gillibrand and Charles Schumer and discussed issues that concern us all here. .
---
Richard Torres, Rep. Lee Zeldin and Jeffrey Liuzzi
Jeffrey Liuzzi, Richard Torres, Rep. Peter King and Gary Naylor
---
ATTENTION: Union meetings are held on the second Tuesday of the month, 5:00 p.m. unless posted otherwise.
Where:
The Hibernian Hall
27 Locust Avenue, Babylon NY 11702

* Use the map on the right for directions to the Hibernian Hall -------------------->
Any suggestions or questions about this site please fill out the form below
and submit
Leadership Training provided by DL19 Training Dept.
Local Lodge 754 Officers and Delegates recieved leadership training from DL19 Educator Andrew Sandberg.
Training was done here at home on April 24 and 25, 2018
Sitting from left to right: Lou Percoco, Richard Sharp, Jeff Liuzzi, Oscar Valle, James Michels, Shawn Bentley, Al Vellota.

Standing from left to right: Andrew Sandberg (DL19 Educator), Joe Menechino, Billy Hunt, Richard Torres, Gerald Meigel, Matt Kalwiss, Robert Prybyzerski, Tom Eng, Emilio Albanese.


Rear Standing left to Right: Gary Naylor (General Chairman DL19), Dave Negus, Scott Aldous, Andy Amato , Eric Jimenez.
Local Lodge 754
2019 Retirees
Members of Local Lodge 754 wish you all a Happy and Healthy Retirement
Congratulations!
Local Lodge 754
2018 Retirees
Members of Local Lodge 754 wish you all a Happy and Healthy Retirement
Congratulations!